EVIE's Wall to Remember 2017
Fighting the negative stigma associated with mental illness and prescription drugs used for treatment.
Host
: Kris Bryant,
832-881-4331
When: Saturday, May 13th from 1:00 PM – 5:00 PM
Where: Center Stage Gallery
3527 Highway 6
Suite #250, 2nd Level
Sugar Land, TX 77478
Event MC: Nicole Rhocherlyn of 90.1 KPFT "So What's Your Story"
Rated X is a social mixer with a message, plus we've partnered up with several vendors for our Pop-up Shops. The day consists of all things grandeur to X Out Mental Illness with healthy Outlets. Our fundraiser is benefiting Invisible Signs Inc., a nonprofit organization assisting patients and caregivers with Alzheimer's and Dementia.
The motivation behind this event is to give back, but also bring awareness to a diagnosis for some that means THEY will soon forget what we remember...LIFE.
GUEST SPEAKERS AND PANELISTS
Erica Tirado, Founder of Invisible Signs Inc.
Nettie Jones, "The Girlfriend's Therapist"
Dr. Arletha Wilson, Psychologist and Author of "Rewriting the Script"
Beverly Gill, Fitness Expert
Greta Williams, Entertainment and Realtor Guru


EVIE's Walk to Remember 2017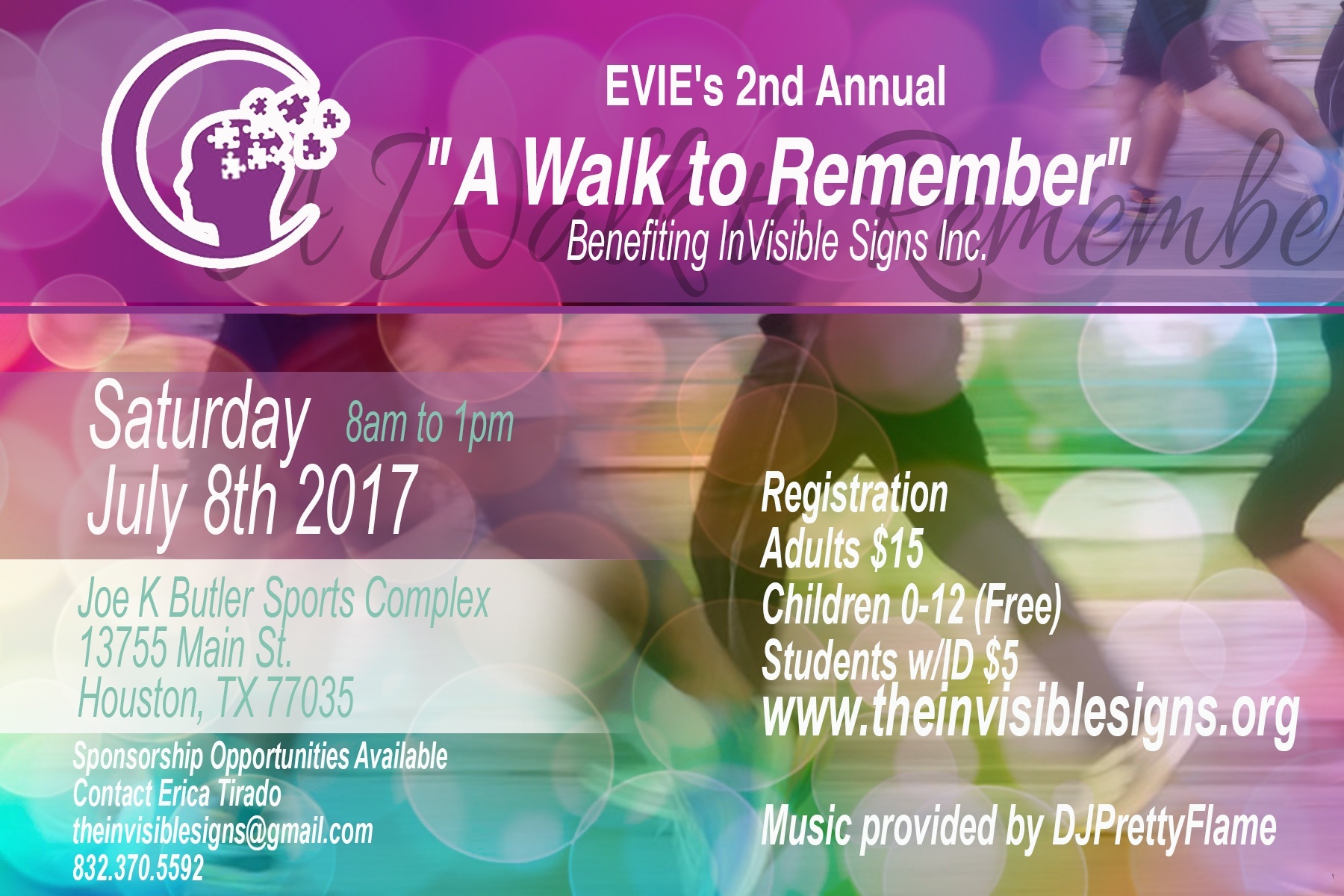 Joe K Butler Sports Complex
13755 Main St.
Houston, TX 77035